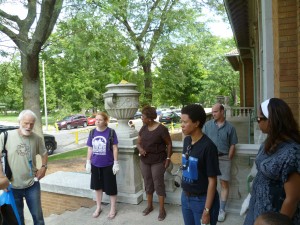 Ron and Serethea Reid, in addition to being members of the Central Austin Neighborhood Association, are leaders in the Chicago Conservation Corp, a program developed by the City of Chicago, Department of the Environment. The Chicago Conservation Corp is a network of volunteers who work together to improve the quality of life in our neighborhoods through service projects.
On Saturday, August 27, 2011 they, along with historian Janine Fron, led a group of 20 volunteers on a historical tour of Columbus Park in Austin. Participants stretched their minds and bodies. Those in attendance shared an interest in natural landscape architecture, preserving our natural resources and enjoying a beautiful day in the park.
The historian shared and presented material from a variety of sources. They included letters from the descendants of the architect, poetry readings and pictures taken during the era when the park was developed. As the participants learned more about Jens Jensen, the landscape architect and his vision for the park, they removed debris as they moved around the park. The event was family friendly and included children.
Those in attendance were quite complimentary about the event. They learned more about the park and were quite interested in the history of its development. They are looking forward to  more opportunities  to participate in preserving and restoring the park.  We plan to provide them.