The first annual CANA Block Party/Festival was a wonderful success!  We had several hundred very happy neighbors that came out for this family friendly event this past Saturday.
We had a full day the started with a group Tai Chi demonstration and exercise thanks to Jerry White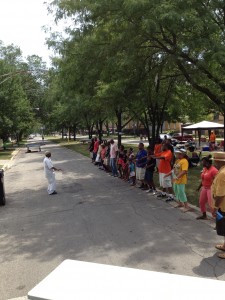 Group Tai Chi was followed by a Salsa demonstration and then a Tango Demonstration.
Thank you Valerie Wright for arranging for the Salsa and Tango dancers.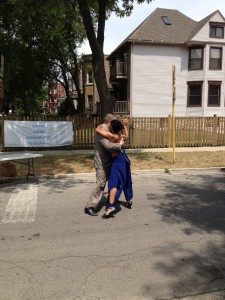 We had two live DJs led by neighbor Doug Herlihy of the 300 block of  North Mayfield. Doug's flat bed of professional quality speakers and amps rocked the block all day. Thanks Doug for your support.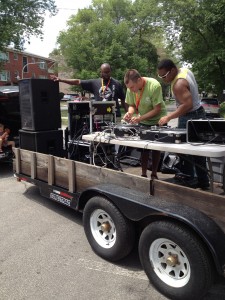 We had lots of events for the kids that included Basketball and Table Tennis. Smitty brought out a huge Chess Board that was in constant use by the many Chess Enthusiasts in the neighborhood!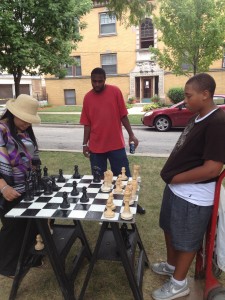 We had many many beautiful faces painted by Wadeane Jackson and her son Theo. Theo also created works of art with balloons for the kids.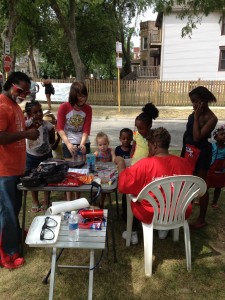 Special thanks to all the many neighbors and friends who brought out equipment and food.
Thank you Ms Tabb for the beautiful signs and posters created by your grands with your help I'm sure!
In addition to our Block Party, Third Unitarian Church coordinated a free community Health Faire at the same time so that we could send participants between events. This was great! Thanks Ms Minor and Ms Roberta and all of our friends at Third Church.  Thanks for the pictures and video Allen.  It was great to see the Boulanger's at our event as well!
Thanks for all the donations from Ms Scott, Ms Velma, Tracie, Ms Beulah White, The Marshall's, Ms Clayton, Val Jennings, Barbara Minor, Ruth
Thanks Marvin and Lizette Marshall for all the logistics support and your amazing pick-up truck!
We want to especially thank Judge Maryanne Jackson who supplied the much of the food and then stood all day and served us. Thank you also for donating the collection of Beanie Babies for prizes for the kids. Thank you so much!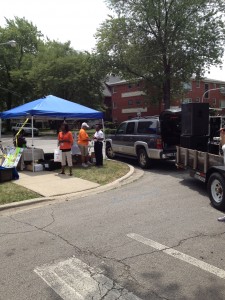 Hats off to a Real Man — Joe Hardy who did the grilling. Joe is also a member and participant of the excellent "Real Men Cook" organization. Thanks Joe and Bea and your sons.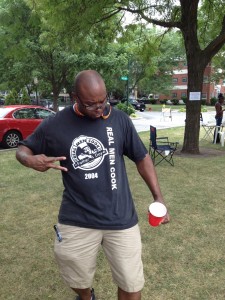 Thank you Robert Sykes for loaning the grill. It cooks excellent food or was it Joe?
Thank you Smitty for bringing out the basketball goal and the Chess board. Both were hits with kids and adults. Also thanks for helping with the food serving along with others.
We were paid a visit by our Alderman Deborah Graham and her staff member Victoria in what we think was their seventh block party of the day!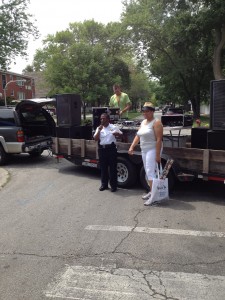 We were also happy to have our new Police Commander Barbara West stop by as well. Thank you for the great job so far that includes getting officers out of the cars and on foot patrols through parts of our community. We are starting to see a difference.
We also had State Rep Camille Lilly stop by as well.  Could that be her below executing a perfect dance step?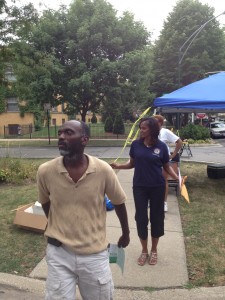 Thanks to the Anderson's at the corner of Mason and West End for supplying power to the sound systems throughout the day. We appreciate that and all the other support you give our community.
To our friends at BUILD, thank you for coming out and supporting our community through your work with our youth. We enjoyed the art demonstrations and engagement with our youth.
A final heart felt thank you for all those that helped that I missed or did not name personally. My memory is like a steel trap …. rusted shut.
And oh Yes Thanks to my lovely wife Serethea who's tireless planning and coordination made this event possible.  Let's continue to build community everyone!