We were joined by the Oak Park Temple B'nai Abraham Zion on Sunday April 29th for a street cleanup and weeding project.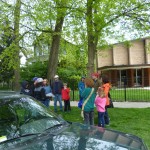 We were very happy to host this family event for Oak Park Temple and CANA families. We were pleased to have almost as many children as adults participating. We met and started at the Austin home of Third Unitarian Church (301 N. Mayfield  and did garbage pickup on Mayfield,  Corcoran and Mason Ave. We tackled a vacant lot and then focused on removing weeds from the front of a vacant commercial building on Mason near Corcoran.  We appreciate the support our organization receives from Third Church which is located within our service area. I think Third Church is one of the few if not only predominately White Church that choose not to leave Austin during the early years of White Flight.
The families with children were wonderful as lessons in gardening and service were delivered through actual experience.
We appreciate very much this effort which helps to lead by example and promotes erasing the invisible barrier between Oak Park and the Austin community just over Austin Blvd.  This magic street artificially separates people, businesses, safety and  economics.
The 16 blocks that CANA focuses on extends from Madison to Corcoran and Austin to Menard streets.
(Stats from The Policy Map and Census)
Our 16 blocks are home to 2,787 people.
1.33% White
92.64 % African American
6 % Other races
45% earn < $25,000
80 % earn <$50,00
Of the 628 Families Identified:
16% are married with children
23% single with children
1,778 people of working age
1,053 employed
Potential unemployment of around 40%
In the spirit of "tikkun olam" thanks for helping us build and heal our community