CANA had our better natures on display on April 21st as we welcomed 58 volunteers to help cleanup our community. We had volunteers from our neighborhood joined by Third Unitarian Church members, the Duke University Alumni Engage team, Christ the King High School and The Safer Foundation.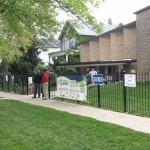 We are truly touched with the outpouring of support from everyone who took time out of their busy schedules  to help improve our neighborhood.  The impact on the community cannot be understated. In addition to a clean and beautiful neighborhood, the example of service was visible to all.  Building a sense of community and letting residents know that people care can have good, interesting and unexpected benefits. We heard comment from some of the young people that they never knew picking up trash could be such fun. There are so many people to thank, that I run the risk of writing a book instead of a post.  A special thanks to Judge Jackson and the Hardy family for supplying  the serious food.  Thanks Ms Velma for the water. Thank you Anna for the cookies! Katie thanks for the Girl Scout Cookies and fruit.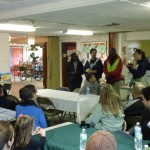 Another thanks to Ms Stafford for her world famous Pound Cake that I must confess was not shared with everyone …
We also want to thank the tireless efforts of Roman Morrow who arranged for and supervised the men of the Safer Foundation.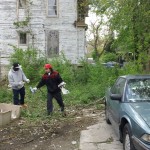 Katie and the Duke Engage Crew were wonderful as they completed their second year with us. We could not have completed our award winning corner planting last year without them. We really enjoyed the Duke Engage practice of Reflection on service that was held in the Third Church sanctuary with support from Pastor Covell, Board President Allen Matthews,  Mena Boulanger, and our dear friend Jerry Parker to name a few.   The Christ the King High School  students participated in the Reflection period as  they prepare for college life and hopefully service as well.
A shout out to Smitty who lead a team of people and Bea who traveled around to several teams delivering water as needed.  Marvin, Joe and I also lead teams that made short work of our 16 blocks by picking up litter, cleaning alleys and vacant lots to removing weeds from the corners in preparation for the May 19th planting event.
This cleaning event happened to occur on the City's Clean and Green day. We thank  Kyle Smith, our ward superintendent in charge of Streets and Sanitation for continuing support and loaner tools and bags.
A special thanks to all those not mentioned  by name. You are all examples of what having a better nature means.