On Saturday October 8th The CANA bike club rode 24 miles from Austin to Wheaton on the Illinois Prairie Path.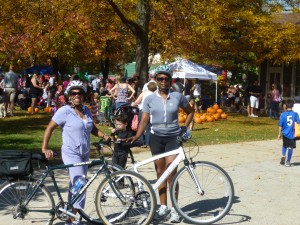 This scenic ride used the wonderful Prairie Path which starts in Maywood and goes through several communities between here and Wheaton with additional spurs to points west like Fermi Lab and Fox River. The path is for the most part a converted rail road track paved over that minimizes contact with cars except to cross  a few village streets.  This rails to trails program example is one of Chicago's best kept secrets. On our ride we stopped at a railway museum and a festival along the path, watched a few minutes of college football at the Wheaton College Stadium next to the path,  had lunch in Wheaton and loaded our bikes on the Metra Train for a different kind of ride back to Oak Park. The weather was perfect!  Please enjoy some of the scenes along the way below: 
 Hope to see you at our next ride!